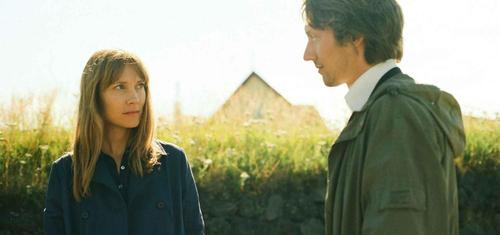 Home is where the heart is, it's not a place, it's a feeling. Director Maximilian Hult portrays this sensation beautifully in his debut movie Home. Set in Sweden, the film follows the journey of painfully socially awkward Lou, from the lonely life she leads at her mother's city apartment to the loving realm of her grandmother's country cottage. Leaving behind her crazy-eyed, neurotic mother, and travelling to her grandmother's seaside village, Lou attains a new family of unlikely characters who each play a part in teaching the 27-year-old the real meaning of home. One of the new characters to enter Lou's formerly isolated existence is local antique-bookshop owner slash part-time pianist Henrik (Simon J.Berger).
Their romance is a sweet sub-plot, offering comedic value in showing the laughable lengths a guy will go to to win a hard-to-get girl – the old adage 'treat them mean to keep them keen' is still alive and well on the big screen. Lou isn't trying to be aloof, she is simply happiest with her head in the books working on optimising the traffic flow of Sweden's major cities. When presented with people not numbers, the stunning strawberry-blonde is lost, not conforming to any social niceties, communicating through honest but crushingly blunt statements, losing friends every time she opens her mouth.
Nice-guy Henrik isn't fazed by her hostility however and through a series of dates involving ageing nudist and gold panning, he attempts, not to breakdown but seep through Lou's rigid social boundaries and show her that she needs love just like everybody else.
While Lou and Henrik's relationship is endearing, the film is stolen by the supporting characters, grandmother Frida (Anita Wall) and old beyond his years, bullied schoolboy Tom (Erik Lundqvist). Walking home, the shamed subject of a schoolyard prank, Tom's path's cross with grieving Frida and the pair strike up an unusual but thoroughly believable and charming friendship.
Through this relationship we see that there is so much more to family than blood, you can extend your clan beyond parents and siblings to include outsiders that you have a special connection with. Generations apart, the bond between Frida and Tom is as valid as any blood tie, and even lateral-thinking Lou refers to the 10-year-old as "my new grandfather".
Overall this is a thoroughly heart-warming movie, played out with sweet subtlety. The storyline is superb, showing a family coming to terms with a death, without the high emotion involved in that process overtaking the storyline – the sadness is always present, gently bubbling beneath the surface but never overwhelming the audience. Unlike Ragnar Bragason's Metalhead which also played at this year's Scandinavian Film Festival, the grieving process is not the main focus of the storyline, but more of a catalyst to bring an estranged grandmother and granddaughter together.
There is no big Hollywood ending, Lou doesn't magically become Miss Congeniality, but she learns to love and find a home in those that love her.