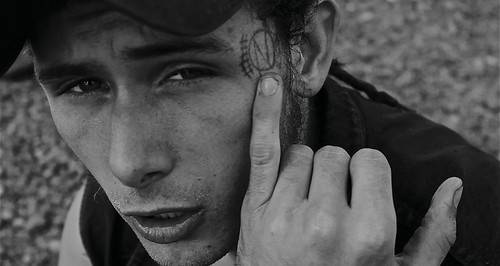 Falling 25 feet off a train bridge and nearly drowning – that was the low-point in Daniel T. Skaggs 18 month journey riding freight trains across America's backyard. For his debut film the budding director documented the lives of the modern-day hobo, immersing himself in the lifestyle for a year and a half. The resulting documentary FREELOAD is screening at this year's SUFF, talking to Film Festival Guide, Daniel explains the lure of the train track.
How did you first connect with the freight train riders?
I hopped a train out of Montana headed to the west coast. I would find train riders on the street or outside the train yards and start talking to them. After a little conversation, I told them I was making a documentary about the train riding community. Then I popped the big question…would you like to be in a movie?
How did you win their trust?
I was already a veteran train rider and traveller. We would talk and exchange stories, so they realized I was legitimate. After weeks and months of traveling together, they naturally opened up on camera. We slept on trains and under bridges together, sometimes in very dangerous areas. We walked for miles and waited for days, freight trains operate on their own time schedule. All of this helped me win their trust.
Have you stayed in touch with the five main subjects in the documentary, and are they still riding trains?
Yes, I stay in touch with most of them. I just spent this last weekend with Blackbird in Montana. I talked to Ponyboy and Xmas last week. Xmas isn't riding trains anymore, he returned to a more normal life in Chicago. Everyone else is headed to do the sugar beet harvest in the fall and still riding trains. It's a way of life.
Have the subjects of FREELOAD seen the documentary and if so what did they think of it?
I think they have all watched the movie by now. Blackbird, Ponyboy, and Don (Ponyboy's father) all made it to the world premiere in Texas. It was an awesome experience. They were very pleased with the film. FREELOAD is a raw look at real life on the street and riding freight trains in America.
What drew you to these subjects?
I travelled for eighteen months off and on with the different riders. As the months rolled on we became closer. I was drawn to each of the subjects for different reasons. Because of our trustworthy relationship, they were able to fully open up and let me step in to their lives.
What do you see as the difference between traditional hobos and modern day freight train riders?
The modern train riders seem to be a lot angrier. Most of today's riders are young and inexperienced. Coupled with alcohol and substance abuse, this creates emotional mental confusion. The original hobos travelled to find work. The Vietnam Vet generation of hobos could not cope with society. The train riders in FREELOAD don't want to be part of society. They want to be free of responsibility.
This was your first full-length feature film project can you tell me what projects you were working on before?
Before this project I was an organic vegetable farmer and train rider. My colleagues were studying Media Arts. This was our first major project and my first film project.
What was your highest / lowest points during your 18 months riding the freight trains?
My highest point was seeing America's backyard. We rode from the west coast to the east, from the Gulf of Mexico to New York City. We crisscrossed the nation multiple times on dozens of trains. My lowest point was having no money and wondering what the hell I was going to do when I finished filming.
We're you tempted to take up that lifestyle, would you consider taking time out to ride freight trains in the future?
I will always ride freight trains. It is part of my lifestyle. Trains make me smile.
Logistically how difficult was it filming on a freight train, did you lose / damage any equipment / footage?
It was very difficult keeping batteries charged and memory space available. We mailed memory cards and hard drives back and forth across the country. I was always on the move, visiting post offices and public libraries in dozens of towns. Filming on a moving train is very unstable and dangerous. Everything about the lifestyle is dangerous. On my 29th birthday, I fell 25 feet from a train bridge in to the Maumee River in Toledo, Ohio. Besides almost drowning, I broke two cameras and my audio equipment. One of the cameras was insured and the memory cards survived. The second camera was broke and the footage was lost forever. I feel lucky to be alive.
What projects do you have lined up for the future?
We are currently working on a film called Skips Stones For Fudge. This film examines the world of competitive stone skipping. Myself and Co-Director Ryan Seitz lived with professional stone skippers for eight weeks this summer. We are finished with production and will begin editing in a couple weeks. We hope to be finished by next Spring.