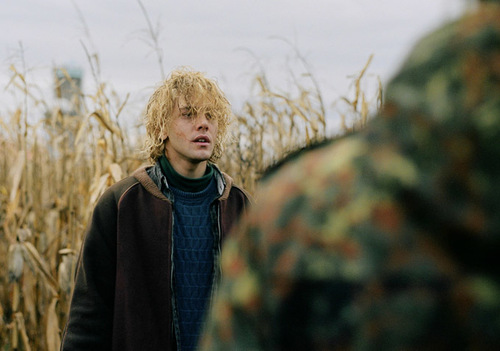 Screening at the 2014 Melbourne International Film Festival and upcoming Possible Worlds FF, Niamh Byrne checks out Xavier Dolan's Tom at the Farm.
Xavier Dolan's psychological thriller – Tom at the Farm (based on the play by Michel Marc Bouchard) is nail-bitingly frightening – homophobia, sexual repression, denial, isolation, the horror of being trapped in an abusive relationship, all of these things are very real, very scary, and very well portrayed in this Quebec drama.
When we first meet Tom (played by director Dolan), he is a driving from Montreal through the Quebec countryside to his boyfriend, Guillaume's funeral. Widescreen aerial views of the car traveling through wilderness are reminiscent of Stanley Kubrick's opening scene of The Shining, which follows Jack's Volkswagen Beetle towards the Overlook Hotel. Like Jack, Tom's destination (Guillaume 's family farm) is haunted, not by malign ghosts of former hotel guests, but by the memory of the deceased.
Overcome with grief, the advertising exec pulls his black corporate car to the side of a cornfield to pour out his feelings on the back of a paper towel, scribbling "all I can do without you is replace you…" Guilliame's replacement comes in the form of his hulking homophobe of an older brother Francis (Pierre-Yves Cardinal) -a repressed, confused brute in the throes of his own meltdown.
The first meeting between Tom and Francis (the brother he never knew existed) is on the eve of Guillaume 's funeral. The encounter is brutal yet sexually tense, set in the pitch dark of the middle of the night, in the family bedroom the brothers used to share. A coked-fuelled tango scene between Francis and Tom in an abandoned barn is another uncomfortable moment, especially when Francis's mother catches the pair in a rhythmic embrace. Guilliame's mother Agathe (Lise Roy) has no idea her son was gay, throughout the film Francis forces Tom to play along with the charade that 'Guy' was madly in love with Sarah – the photocopier girl from their add agency.
But when Sarah (Evelyne Brochu), is roped into coming to the farm to keep up the pretence, Agathe isn't buying it and is heartbreaking in her pleas not to be kept in the dark.
Away from the echoing tango music, the soundtrack for the movie is haunting, reminiscent of Bernard Herrmann's musical scores for Hitchcock's movies. The jarring soundtrack adds to the overall sense of unease as we watch Tom fall under the spell of monster Francis because he reminds him of lost love Guilliaume. In one scene, Francis is choking Tom, but they both seem to be getting off on it, while Francis is getting his sadistic kicks, Tom gasps "You smell like him, and the voice too, same fucking voice". Like Hitchcock's Rebecca, a deceased character has an intoxicating effect on the living characters in the movie – from the grave, Guillaume is sending his mother into early dementia, twisting his brother into insanity and blurring Tom's sense of reality into blindness.
In just three weeks Francis and Agathe have gone from being complete strangers to Tom, to becoming a family that he feels he can't leave behind. The farmhouse is surrounded by fields of razor sharp corn, to physically get off the farm is a test, but to mentally leave it seems impossible as Tom draws deeper and deeper into the isolation of dairy farm life.
Does he leave his lover's brother and mother to descend into madness, cut off from a society that shuns them, or does he stay and keep them company in their descent into insanity?
At just 25, French-Canadian wünderkind Xavier Dolan is on fire after the success of black comedy (I Killed My Mother), delicate romance (Heartbeats), gender-bending drama (Laurence Anyways) and Cannes favouriteMommy.
And he doesn't disappoint with this tense, Hicthcockian drama.