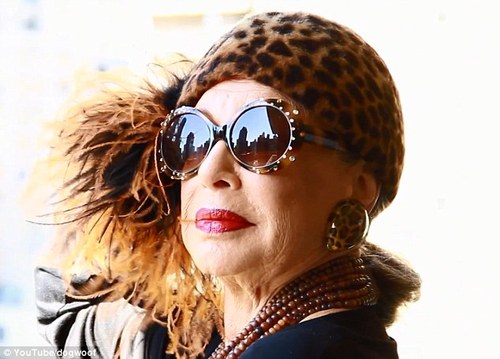 Beautiful young people are accidents of nature, but beautiful old people are works of art...Eleanor Roosevelt was on the ball with this quote. With fresh, plump skin and a hot young body, it's easy to look attractive when you're young, but making wrinkles and a shrinking frame fashionable really is an art-form. Advanced Style, a blog by Ari Seth Cohen, pictures the most stylish and creative older folks on the streets of New York. Translating onto the big screen, Ari proves – by featuring seven of his most fashionable silver-haired set – that personal style advances with age.
Filming began in 2008, and the feature was financed primarily via a 2012 Kickstarter campaign that raised $55,441. The project started after director Lina Plioplyte shot short video portraits of Cohen's subjects on Youtube, and within weeks the shorts were getting over 50,000 views. It appears the general public is hungry for an alternative face of fashion to the usual disinterested 14-year-old that stares back at you from the high fashion mag on your lap at the local hairdressers.
Tina Fey once said: any woman "who keeps talking even after no one wants to fuck her any more" is likely to be deemed crazy. Advanced Style puts two fingers up to this notion, featuring seven wise, fashion forward OAPs as the stars of the documentary.
The women featured in Advanced Style are not only stunning, but intelligent, independent women. At 81 Jamaican / American model Jacquie Tajah Murdock is eager and willing to work the runways:' "I grew up in Harlem always wanting to be a model, but in my day there were very little opportunities for women of colour to work in fashion. At 18 I went from agent to agent looking for jobs, even as a hand model. I have finally made it and I will never give up." "I said when I was 18 I wanted to go to Paris, so you could turn it around, I'm 81 and Paris is coming to me," says the octogenarian who is now the face of Lanvin's Autumn / Winter campaign.
94-year-old Ilona Royce Smithkin is a celebrated artist from Poland, who still carefully creates her own eyelashes, made from her flame-red hair. Famous for portraits of iconic figures such as Ayn Rand, Tennessee Williams and singer Bobby Short, Ilona still teaches art to this day, and practices it in everyday life through her creative wardrobe. "There's no time limit to anything, when you look good you look good," says Ilona. She knows she's no spring chicken though, bringing humour to the ageing process by adding: "I can't buy green bananas anymore."
This documentary expresses a worldwide movement, elderly people are an important demographic and need to be represented by the fashion world. In Ari's documentary, the over 60's use the broad avenues of New York as their runways and look sensational and is an uplifting look at ageing and how you can dress it up how you want to.
In memory of his grandmothers, Ari sets out to show that older women are worthwhile, fashionable, inspirational and beautiful and he does so flawlessly. Advanced Style is screening at the Melbourne International Film Festival.